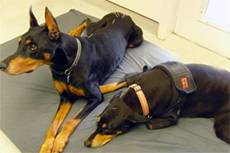 Because of the shorter lifespan of our pets, we stress the importance of an annual physical examination.
Thorough check-ups and preventive care can help our pets avoid serious health problems. We offer a wide range of veterinary services to help your companions feel their best, everyday.
Some of the services we offer:
Routine Vaccinations: We offer various vaccinations for your pets, and are happy to recommend them based on their living situation and exposure.
Surgical Services: Our state-of-the-art surgical suite provides for a wide variety of surgical procedures.
Anesthesia: We utilize the safest available anesthetics to provide an extra margin of safety, especially for our older or high-risk patients. Using the most modern equipment, the patient's vital signs are monitored during all anesthetic procedures.
Acupuncture and Chiropractic Care: We believe in taking advantange of all methods to maintain our pet's health and comfort. To that end, Dr. Washburn integrates the use of acupuncture, Chinese herbs, and chiropractic care into our traditional 'western' approach to medicine.
Internal Medicine Consults: We maintain an excellent relationship with all of our local referral centers to provide your pet with specialized care when necessary.
Radiology Services: Our brand new digital radiography system provides us with the ability to capture fast, highly detailed films to even more quickly get to the bottom of your pet's symptoms.
Electrocardiography Services: We provide ECG services on-site as well as consultations with cardiology specialists.
Dentistry: Our fully stocked dental suite allows for extensive dental prophylaxis, exodontics, dental radiography, and minor oral surgery.
Laboratory: We utilize state of the art in house blood analysis instrumentation to for routine screenings and to aid in diagnosis.
Permanent identification: We offer microchip identification.
Pharmacy: We maintain a complete inventory of pharmaceuticals, vitamins, shampoos, flea and tick control products and heartworm preventatives to meet the needs of your pet. We also carry a full line of prescription diets.
Individualized Flea Control Programs: We develop programs for the specific needs of your pet and your own particular environmental situation. We are always happy to review with you the best ways to control fleas in your house, in your yard and on your pet.
Dietary Counseling: Our veterinarians are ready to provide you with an individualized nutritional strategy for your pet's health.
Behavioral Counseling: We can provide advice regarding the correction of problems such as excessive barking, chewing, spraying, scratching, digging, house soiling and aggression.
Bathing: Therapeutic bathing services are available.
Emergency Care: Please call our main telephone number for instructions for after-hour emergencies.